Bubble Tents are a Unique and Beautiful Style of Tent
It can be especially challenging to find a "genuine" high-quality bubble tent when searching online among all the clutter.
This is due to a large number of "sellers" and affiliates that are using photos that have been stolen, copied and then reused online to sell a lower quality brand of a bubble tent.
The most significant amount of these stolen photos are being used within Ads that are listed on Amazon and eBay shopping platforms.
The photos that you are mostly viewing online are from a company named "BUBBLE TREE", in France.  
They are located at, 6 Rue Lionel Terray, 92500 Rueil-Malmaison, France
                         http://www.bubbletreebubbletree.fr/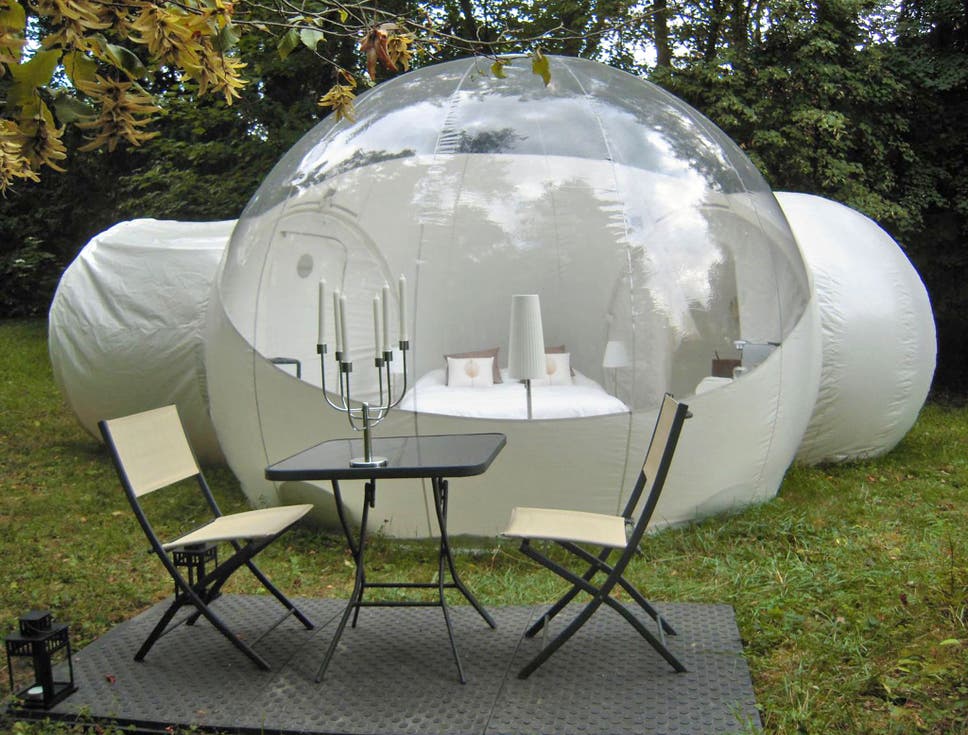 Bubble Tree tents are by no means cheap but they absolutely demand the price tag of $8,000 – $10,000.
I gained my inspiration to design and develop an "American" brand of bubble tents after seeing a Bubble Tree bubble tent.
However, I never once tried to mislead or deceive anyone into buying a bubble tent from my business by misleading or confusing them to believe that I am selling them a Bubble Tree Brand of bubble tent.
I have personally told many others about the Bubble Tree Company and the bubble tents they create, even while trying to gain business for my own.
I believe in a "fair and honest" market of trade and having healthy competition.
Unfortunately, others don't hold those kinds of core values in business!
How do I know?
I know, because Bubble Huts LLC went directly to these companies and with the help of the BBB with the proof  I have obtained to expose this problem to them, in the hopes that they would take a hard look at my claim and take action.
Unfortunately, I was told that because I'm not the intellectual property holder of the photos, both eBay and Amazon will not take action or do an investigation of their own.
I can say that since we have tried to tell them of this issue and have shared evidence with both Amazon and eBay of these practices and their failure to do anything, I can say both of these companies are knowingly facilitating this type of false advertising practices to happen within the product categories of Bubble Tents on their shopping platforms.
After recently discovering how many "infringement and deceptive" Ads there are online for a Bubble Tent, I can say I am alarmed!
It amazes me how an item that costs as much as a Bubble Tent does, that these "sellers" don't have to meet any type of requirements of proof or verification of the authenticity of the product they are selling.
Why aren't online ads verified as being real or misleading?
I understand the fact that both of these companies have a return policy for a consumer but why is it okay for this to happen in the first place?
Since when is it okay to use misleading and deceptive advertising practices despite who the owner of the photos are?
Team members of Bubble Huts LLC have had phone conversations and email correspondence from online shoppers of both Amazon and eBay asking for HELP because the tent they received was not the tent they believed they were buying.
The tents these individuals purchased are of a lower quality, the plastic material separates easily from the seams, the zippers break after using their tent within one use, they don't allow you to get in and out of them without it falling on top of you and the blowers are extremely loud.
If you are thinking of purchasing a Bubble Tent, I highly recommend you do your research first to prevent yourself from becoming a victim of purchasing a tent from a deceptive ad.
To help you a bit on your shopping excursion for a bubble tent online, I have listed a few steps that may help you verify and recognize the true bubble tent ads:
#1. Does the seller of the Bubble Tent product use all of the same photos as every other seller's listings you find online or do they have their own original photos?
You can either do a google image search on the photo(s) to see all the different places it populates. If you see the same image populating all over the internet especially on shopping platforms and apps, , chances are they are fake!
Also, go through each photo the seller is using, sometimes they will slip a photo or two of the real product in that they are going to ship you. Some ads have zero photos of the real product.
#2 What do the reviews say about this seller?
If you take the time to read the reviews, you not only will gain some valuable insight into the product and the selling history of the seller.
You may even see the ones that have irrelevant reviews and just pure silly remarks. That is a red flag!
#3 Pricing is too good to be true!
Like I mentioned earlier if  you see a Bubble Tree Bubble Tent photo being used remember that brand of a bubble tent retails for $8000.00 – $10,000.00
#4 Does it include where it is shipping from or manufactured?
Remember a "real" Bubble Tree Tent is made in France and is sold and shipped from there as well.
#5 Is the product shipped at a low cost or "FREE"?
A "real" Bubble Tree Tent is not shipped in a package or box, they are far too big and require to be shipped on a pallet.
Allow me to share an example with you of a "fake" Ad using a photo of a Bubble Tree Tent to mislead.
"Amazon"
This seller has even go as far as adding a border around the photo
Outdoor Single Tunnel Inflatable Bubble Tent Family Camping Backyard Transparent
Size: 3M in diameter+ 2m tunnel
camping tent

playground tent

family tent
A customers review who purchased from this Amazon seller
Enya
June 26, 2018
Size: 3M in diameter+ 2m tunnel
Verified Purchase
I bought this tent on Amazon, but i received anther one. The fan is extremely loud, not possible to sleep in. The zipper is of very poor quality, and when the tent is inflated, it is almost impossible to open the inside zipper without breaking it. There is also only a zipper on the inside, it,s not a double one. So you can not really close the tent when you are outside. I think the one in the picture is good, but the one i received is very bad. So i wouldn't take the risk. I wish i didn't.
Below is the actual product she had received
And I'm not just picking on Amazon because Ebay allows for this kind of listing on their online shopping platform as well.
The listing and link below is one of many sellers on Ebay that uses the same kind of method in their advertising for bubble tents also.
You will notice if you click the link, it appears that this particular seller has received a "good" reviews. However this is because of all the other products they sell  on Ebay and not necessarily because of the bubble tents that they offer.
This type of reviewing system on Ebay can be confusing and misleading.
Inflatable Bubble Tent, Lawn, Dome, hiking Transparent camping pool sea outdoor.
Seller information   ronenkobi.10 (19 )
Condition:New
Price:US $904.97
Five out of six of the photos within this listing are actually of a BUBBLE TREE product.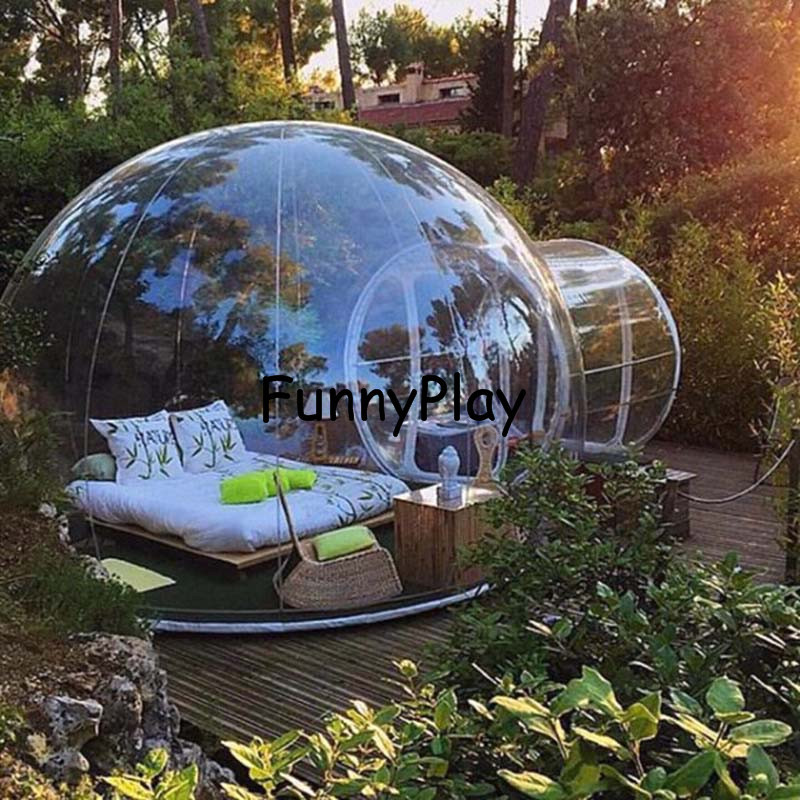 This is a photo of the actual bubble tent they are selling on this listing and the one the online shopper will be receiving.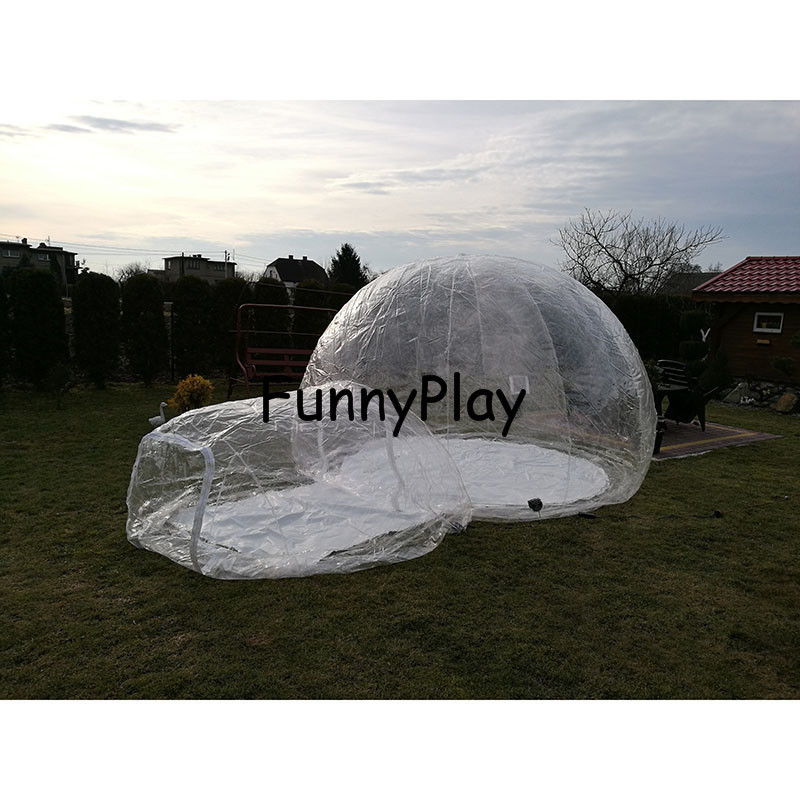 Notice how both of the photos are marked with the name FunnyPlay, so which tent are they trying to sell the online shopper? 
Doesn't it seem blatantly obvious of what is happening here?
Please by all means, just don't take my word about what is going on but research it out for yourself and you shall see!
So the next time you see a beautiful bubble tent being sold online and are thinking of purchasing one be sure to do your homework first, this will help prevent you from being highly disappointed when your bubble tent arrives at your door.
If you have any question or if you would like more information about this particular issue please feel free to contact us at info@bubblehuts.com .